As we prepare for a return to normalcy, CloseCallSports.com announces
Tim Tschida
as our next guest on
The Plate Meeting
podcast. After his American League debut in 1985, the Minnesota-born umpire officiated AL and MLB games through his 2012 retirement, cataloging 3,358 regular season games and 86 ejections, with nine Division Series, three League Championship Series, and three World Series thrown in between.
Tschida, who ejected Lou Piniella and Cal Ripken early in his career before transforming into the most popular umpire-ejects-manager GIF on the internet with his 2012 ejection of Don Mattingly, retired to bartending in St. Paul, as chronicled in a local 2018 interview.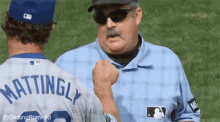 Tschida ejects Donnie Baseball.
Comment with your questions for Tschida, from baseball to bartending and beyond.
The Plate Meeting, a Left Field Umpire Podcast, Close Call Sports/UEFL's official audio show, features interviews and discussions of officiating topics with umpires.